Total Cashless Income Collection
Collect payments for meals, clubs, trips, uniform and more
Parents can securely pay for school items online at a time convenient for them.
Manage school dinners
Full cashless till integration for secondary schools
Stand-alone flexible cashless solution for schools
MIS/attendance options
Pre-Order Menu selections
Parents can see full meal information online
Collecting other income
Manage your school trips and clubs in easy to use flexible areas
Revolutionise payments to collect donations / fundraising, extra-curricular / music lessons, lettings, school equipment, uniform & PE, Clubs / wraparound care, holiday clubs with an online shop
Integrated parental communication
Send payment alerts or school messages by text or email to parents. ParentPay includes a communication system so the school office can easily send out important information and updates to parents.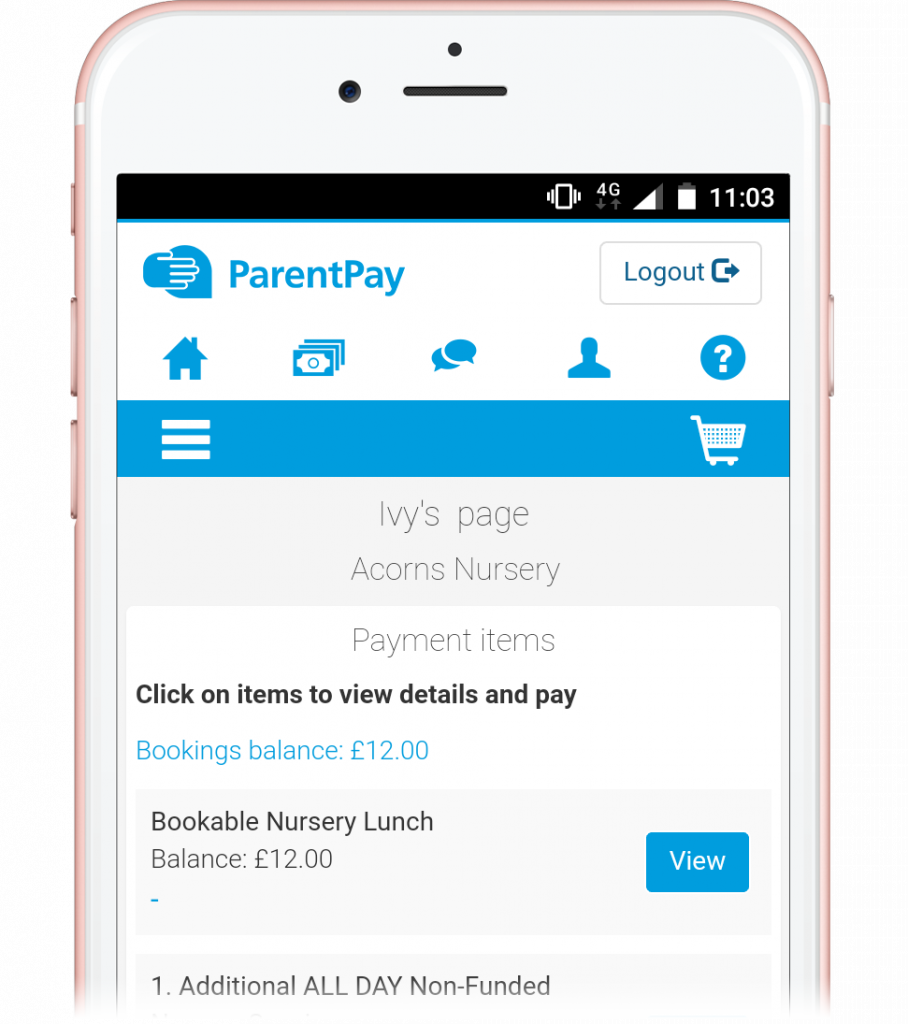 INTRODUCING SCHOOLCOMMS
As part of the ParentPay Group, Schoolcomms gives our customers access to market-leading parental engagement and communication software, which provides comprehensive online reporting, two-way parent communication, and allergy-safe meal selection from the classroom – all in a single system.
Efficient income management and reporting
Accept payments to multiple bank accounts
Funds are settled accordingly on a weekly basis. Income can also be split between central and local banking. Online payments are immediately credited to the relevant account and can then be allocated directly to the school or the caterer.
MAT/LA Group access and reporting
Central control, banking and reporting across schools.
Analyse a range of financial reports
Income reports provide high-level financial information across a school group – perfect for MATs or local authorities. Reconciliation at school, year, class or pupil level. Our detailed reports include income type or specific account/cost codes, including individual payment transactions.
Secure payment processing and audit
ParentPay are certified PCI DSS Level 1 suppliers, so your payments are safe in our hands. A complete audit trail of all payments can be securely maintained. Transaction references and identifiers link parent and school accounts to the payment and banking network.
Data protection and security
Enterprise class security
We deliver strong compliance with security standards utilising end-to-end encryption from the client browser, right through to the bank. Our developers receive regular specialist security training to ensure the continued delivery of robust, secure and trusted source code.
Meeting the GDPR
We manage data with agreement of the data controller (the school). We use safeguards around data handling and impose confidentiality requirements on our personnel. We will help schools meet the rights of the data subjects.
External auditing and thorough testing
Our security team manage and maintain our Information Security Management System. Our solutions have been audited with extensive technical and security due diligence by local authorities, central government departments and UK banks.
Seamless MIS Integration
ParentPay is integrated with all the leading management information systems; so if you're part of a new trust or authority with different systems across the group, you can be sure ParentPay will still implement seamlessly. Reporting is fully configurable and integrates with finance and cashless systems to manage online payments efficiently.
Cashless System Partners
Whichever system you use, it will link with ParentPay to automatically collect payments, display balances and share meal selection with parents. If you work with a cashless system partner not listed, please contact us as we may still be able to integrate and provide a solution for you.
How We Work With Schools
Product demonstrations
We can arrange a demo online or over the phone. We may even be able to visit your school to show you the product in person.
Staff training
Face to face group training is available alongside detailed computer-based training, allowing staff to learn how to make the best of ParentPay at their own pace.
Implementation
We work closely with your finance, IT, audit and security staff to ensure implementation runs smoothly. Certified staff manage implementation across school groups with central contracts.
On-going support
Ongoing support from our experienced team. If you require additional training, we can provide extra on-site or online sessions.
Get Started, it's Simple
Our experienced advisors are ready to help. They can answer any questions you may have; provide a quote for your school; or give a demonstration of our system. You can even arrange to see us in person; we'll visit your school and show you and your staff how it all works.