How Do I Withdraw Money From A Parent Account?
You can withdraw funds from your Parent Account balance up to 3 times within a 3 month period.
Log into your ParentPay account
From your homepage, Select Parent Account (desktop) or click on the notes symbol (mobile – see image below)
At the bottom of your statement summary, select Withdraw.
Enter an amount between the minimum and maximum shown
Select Make withdrawal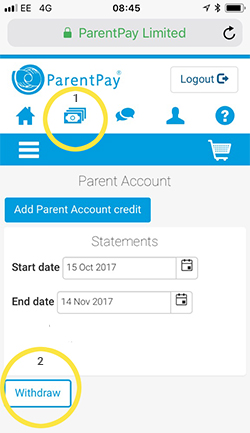 Our procedures may require us to carry out various checks to prevent fraud before we can process your withdrawal request. Most withdrawals are processed immediately, however, funds can take up to 10 days to appear on your account.